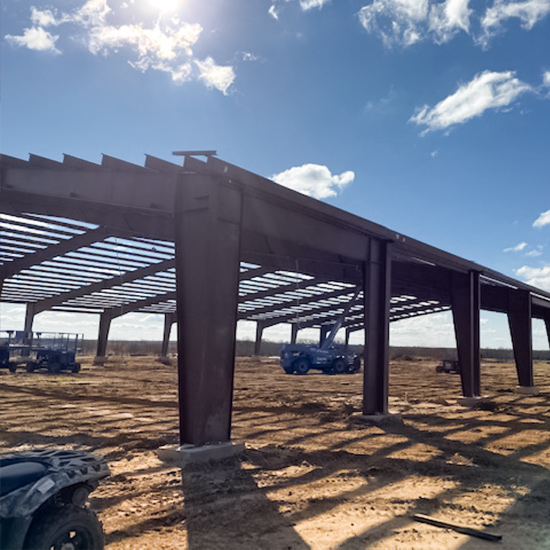 Client: Speed Williams
Industry: Equestrian
Size: 150x200x16
Location: Comanche, TX
Building System: I-Beam
"Having an indoor or covered arena is a dream for any team roper. Thanks to Coastal Steel Structures, that dream has finally come true for me.
As a professional cowboy, I was on the rodeo trail for many years. After winning eight consecutive PRCA world championships, I started a family and began teaching full time so that I could stay closer to home. I created a training website, speedroping.com, using online video to help ropers learn at home.
In the last year or so, we found our current home in Comanche, Texas, and started pursuing my dream of a covered arena. My friend, Chan Peters, of T & C Metal Builders, and I spent a lot of time discussing options and gathering estimates from various manufacturers.
In the meantime, a friend of mine, Steve Munz, had a Coastal Steel building that needed erecting. Chan traveled to Florida and supervised the construction. He was very impressed with the quality and how easy Coastal Steel was to work with. This prompted us to get a bid from Coastal for my arena, and they were $10,000 cheaper than our lowest bid.
Coastal Steel Structures was fantastic to work with. Having this covered arena makes my life and job so much easier. Now the weather cannot dictate whether or not I can give lessons. Plus, being able to rope in the shade during the Texas heat is a blessing for my students and my family. Thanks to Coastal Steel Structures, my life-long dream of a covered arena has come true."
Speed Williams
8-Time Consecutive World Champion
Team Roping Header
MODELS USED FOR EQUESTRIAN STEEL STRUCTURES
$17,626+
A 30×30 metal building kit is an excellent alternative to conventional construction.
$100,096+
An 80 x 200 riding arena is an ideal solution for year-round horse training!