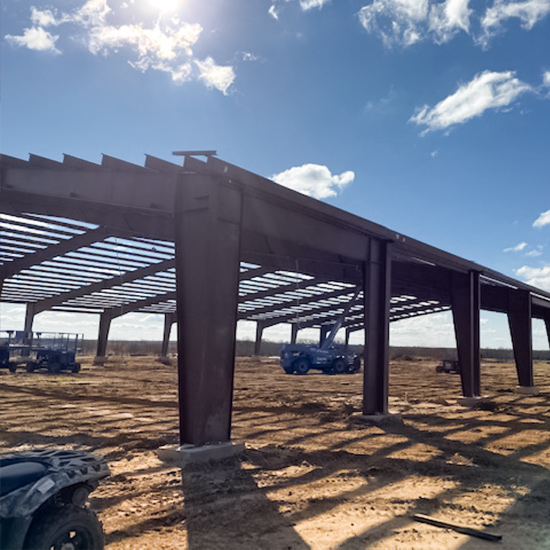 Client: Speed Williams
Industry: Equestrian
Size: 150x200x16
Location: Comanche, TX
Building System: I-Beam
"Having an indoor or covered arena is a dream for any team roper. Thanks to Coastal Steel Structures, that dream has finally come true for me.
As a professional cowboy, I was on the rodeo trail for many years. After winning eight consecutive PRCA world championships, I started a family and began teaching full time so that I could stay closer to home. I created a training website, speedroping.com, using online video to help ropers learn at home.
In the last year or so, we found our current home in Comanche, Texas, and started pursuing my dream of a covered arena. My friend, Chan Peters, of T & C Metal Builders, and I spent a lot of time discussing options and gathering estimates from various manufacturers.
In the meantime, a friend of mine, Steve Munz, had a Coastal Steel building that needed erecting. Chan traveled to Florida and supervised the construction. He was very impressed with the quality and how easy Coastal Steel was to work with. This prompted us to get a bid from Coastal for my arena, and they were $10,000 cheaper than our lowest bid.
Coastal Steel Structures was fantastic to work with. Having this covered arena makes my life and job so much easier. Now the weather cannot dictate whether or not I can give lessons. Plus, being able to rope in the shade during the Texas heat is a blessing for my students and my family. Thanks to Coastal Steel Structures, my life-long dream of a covered arena has come true."
Speed Williams
8-Time Consecutive World Champion
Team Roping Header
Our client is a champion roper located in Comanche, Texas. His dream was to have a personal enclosed roping arena where he could train himself all year round irrespective of the weather conditions. Apart from using the area just for personal use, the client also wants to use it as a part of his training academy.
Since this roping arena was a crucial part of his business, the client wanted to have a specific building design that suits all his business's requirements. To be precise, the client wished the roping arena design to have a clear span to get the right speed from the horses. In addition to this, the height of the building should be tall enough so that one could throw the ropes in the air with ease. 
Click here to read more..

Requirement Specs –

A ClearSpan Building With Specific Design

Since it was an athletic facility, the client wanted a specific design that would suit all the roping requirements. 

Cost-Efficient Roping Arena Building

The client had a fixed budget and wanted the entire structure to be built within the same budget.

Hard-Wearing And Long-Lasting Structure

Other than design and budget, the prime concern of the client was to have a building that can withstand harsh weather conditions so that their training sessions won't be affected.

____________________________________________________________________________

Our Problem Solving Approaches Played A Crucial Role In Achieving The Desired Results!

The entire team of Coastal Steel Structures was very confident and enthusiastic about this project. Although it wasn't the first time for us to prepare an athletic facility, this project was still challenging due to the client's specific conditions and requirements. Keeping the roping arena layout in mind, we picked up "The Champion" metal structure model, suitable for building open and enclosed arenas. The client specifically mentioned having a clear span so that the horses can maintain their speed and move swiftly. Therefore, we ensured to use the proper material and technique to build the arena. Everything was planned and right in place, from estimated roping arena cost to completion time; however, an error from the third-party foundation engineering company made things a little difficult for us. That mistake had such an impact that it set our entire project back two weeks.

The worst part was that we had already completed almost a quarter of the concrete foundation before the research and strategy team discovered the error. However, this phase could not break our zeal and passion for delivering the best results. It was great that our client timely reported the mistake committed by the foundation engineering company so that we could find the fastest solution possible to tackle this issue. Our project manager analyzed the severity of the case and took on the expense for the repair to ensure that once the problem was alleviated, we could complete the remaining roping arena construction work promptly.

____________________________________________________________________________

Our Approach: Key Measures Taken By Us to Fulfill the Client's Requirements

1. Erecting The Roping Arena Building As Per The Specified Design

Our team focused on the strategic plan prepared by the design and engineering team to get the desired result as suggested by the client. In fact, the project manager maintained a communication thread with the client and walked him throughout the entire project development process to get real-time approval for the designs and specifications.

2. Creating An All-Weather Endurable Building

Our client explicitly asked our project management team to construct a building that can endure harsh weather and environmental conditions. Keeping this in mind, our project manager guided the roping arena construction team to use the suitable material and I-Beam building technology to carve out a rigid structure. In fact, this building is durable enough that it could easily resist intense weather conditions, be it heavy rainfall or scorching heat.

3. Making The Roping Arena In Most Affordable Way Possible

Apart from the design results, the client was also happy with the fact that we built the entire roping arena in a cost-efficient manner. In fact, our final quote was $10,000 less than the competition. Our project manager knew the maximum budget value the client could afford and prepared a plan accordingly to deliver the proposed results as affordably as possible.

____________________________________________________________________________

Results

Through this project, we learned two important lessons. The first one is never to walk away from your responsibility, no matter what happens. We knew that the third-party foundation engineering company had committed the mistake. Still, we put our wholehearted effort and did way ahead of what was expected from our team. Although we were lagging due to that error, we delivered the entire project as close to the initially scheduled date as possible.

The second lesson we learned from this task is that anything is achievable where there is mutual trust between the two parties. Our client knew that the mistake had set our project two weeks back; still, he did not lose hope or faith in us, making us more diligent in completing it on time. For us, the main thing is to provide our client with a durable and well-designed steel roping arena, no matter even if we had to bear the additional repair cost for the same. 

Working with such a respectable and generous client was a worthwhile experience for the entire team. It didn't only enhance our project development skills but also improved our relationship-building qualities.

If you are also planning to have a prefabricated metal building to fulfill your business needs, we are here to help you. Get in touch with our project managers and see how we can assist you with your business requirements.
MODELS USED FOR EQUESTRIAN STEEL STRUCTURES
$17,626+
A 30×30 metal building kit is an excellent alternative to conventional construction.
$100,096+
An 80 x 200 riding arena is an ideal solution for year-round horse training!